According to AU: "Aarhus University must make a greater and stronger impression on society. To support this goal, the senior management team approved a new sub-strategy for business collaboration and innovation 2021-25 at a meeting on 28 April. The sub-strategy is based on Aarhus University's Strategy 2025, which describes collaboration as one of the three pillars on which the university stands, along with research and education."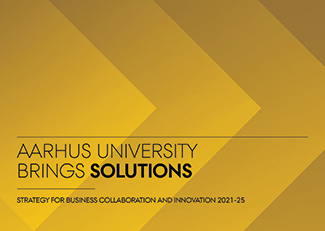 With this strategy, Aarhus University will now focus its contributions to addressing local and global challenges through research contributions to business and industry, public institutions and civil society: the university will creating more research-based companies and equip its graduates for the labour market of the future.
In short, the strategy aims to increase Aarhus University's contribution to growth and development in society. And the adoption of the strategy is just the beginning.
Now it's time to put our fine words into action, and in this regard, the Business Committee, on which all of the faculties are represented, has an important role to play. Because the foundation for the initiative is our research and teaching programmes, where new knowledge is created," said Lone Ryg Olsen, director of enterprise and innovation.
The initiatives in the sub-strategy – entitled 'Aarhus University brings solutions' – are are divided into three main areas.
Read more about the strategy here: https://newsroom.au.dk/en/news/show/artikel/aarhus-university-brings-solutions-new-strategy-for-business-collaboration-and-innovation-2021-25/